Prof. Dr. Wolfgang Streit
I. Functional Metagenomics
First, we are interested in exploiting the metagenomes of the non-cultivated microorganisms for basic and fundamental research. Today we know that 99 % of all microorganisms are difficult or impossible to cultivate (Streit & Schmitz, 2004; Streit et al., 2004). In particular, we are interested in the isolation and functional characterization of lipases, esterases, and others for industrial applications (Martinez et al., 2018; Chow et al., 2012; Rabausch et al., 2013). Among many others, we are searching for enzymes for the degradation of PET (polyethylene terephthalate) and other plastics on a global level (Danso et al., 2018). Thereby, we also assign functions to hitherto unknown esterase for the microbial metabolism (Chow et al., 2018). In addition, we are working on the development of in vitro systems to gain faster access to the proteins of non-cultured organisms (Kinfu et al., 2017).
II Biofilms – formation/prevention
Another focus of our research group is biofilm research. Biofilms are mostly unwanted microbial assemblages on surfaces. They disrupt industrial production processes and cause infections in the clinical settings that are difficult to treat. They are in general difficult to detect and fight. Our focus is on 'omics' analyses to understand and detect biofilm formation on a global scale. We work with naturally occurring technical and clinical multi-species biofilms and consortia (Schmeisser et al., 2017, Krohn Molt et al. 2017) and also with single-species biofilms. In the course of this work we develop strategies to avoid microbial biofilms and to suppress pathogenic microorganisms. In particular, we use marine and terrestrial biodiversity to identify new anti-biofilm molecules
III. Cell-Cell Communication
Thirdly, we are interested in cell-cell communication of bacteria. Here we are especially interested in processes linked to Quorum Sensing (QS) and Quorum Quenching (QQ) in gram-negative bacteria: We study of the influence QS and QQ on phenotypic heterogeneity (Grote et al., 2015), biofilm formation and on the role during infection of eukaryotic hosts. Thereby we work with the model organism Sinorhizobium fredii, Burkholderia glumae and Janthionbacterium/Duganella species. (Krysciak et al., 2011, 2014; Grote et al., 2016; Gao et al., 2015; Hornung et al., 2013; Haack et al., 2016).
1 von 13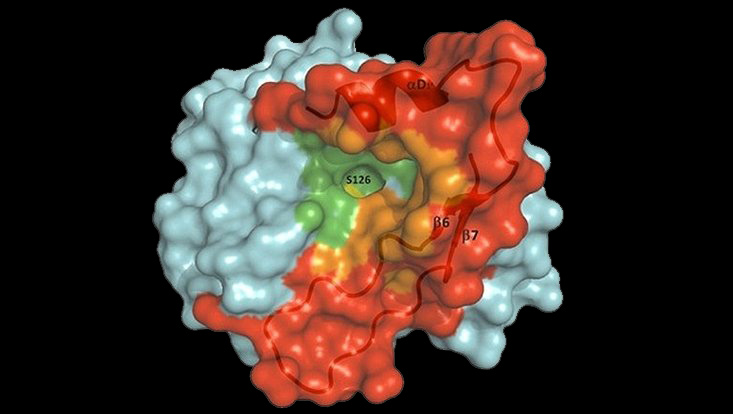 Photo: UHH/Mikrobiologie
3D-structure of the metagenome derived Lipase LipS (Chow et al., 2012, PDB: 4FBL). LipS is a true lipase derived from a non-cultivated Symbiobacterium sp. It has a high potential for application in biotechnology.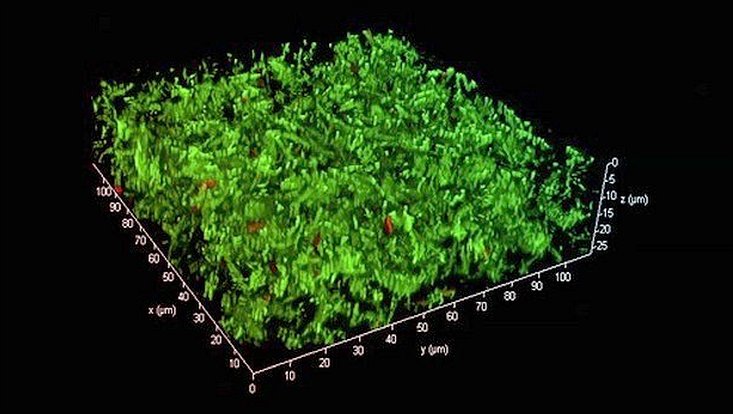 Photo: UHH/Mikrobiologie
3D-structure of a bacterial biofilm in a flow cell produced by Stenotrophomonas maltophilia K279a, an emerging pathogen (Cells were visualized with the life dead stain). The biofilms of Stenotrophomonas maltophilia clinical isolates were grown in flow cells under flow conditions at 28 °C for 72 hours (Alio et al., in preparation, 2020).
Photo: UHH/Mikrobiologie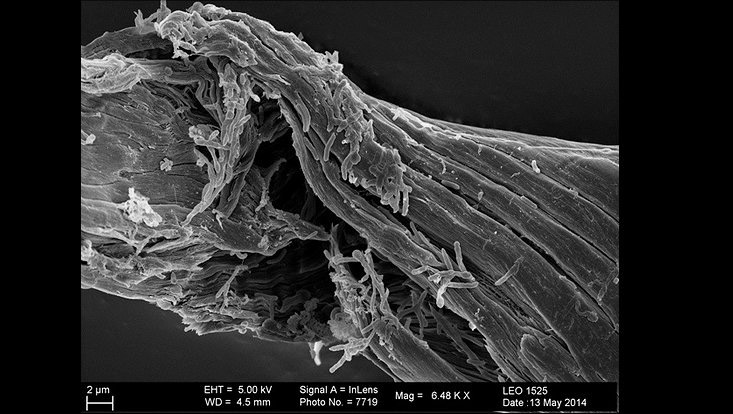 Photo: UHH/Mikrobiologie
Cellulolytic bacteria forming colonizing cellulose fibres (unpublished image)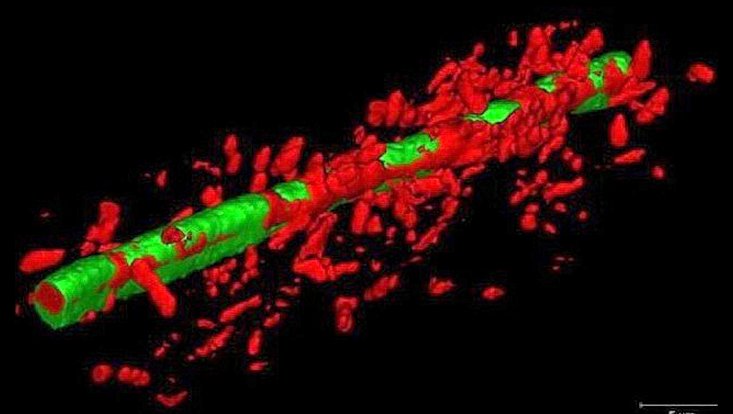 Photo: UHH/Mikrobiologie
Mikrobieller Biofilm von Janthinobacterium sp HH102 (rot) auf Filamenten des pflanzenpathogenen Pilzes Fusarium graminearum (grün) (Haack et al., 2016)
Photo: UHH/Mikrobiologie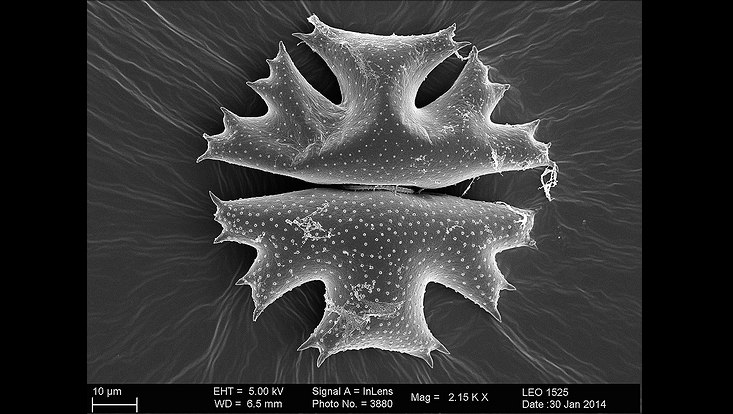 Photo: UHH/Mikrobiologie
Microbes colonizing microalga surfaces of Micrasterias crux melitensis. Small image shows a magnification of the core region of the microalga (unpublished).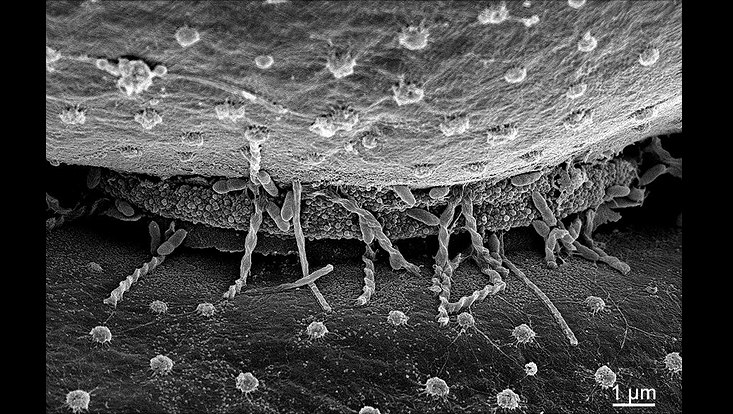 Photo: UHH/Mikrobiologie
A zoom into the center of the microalga Crux melitensis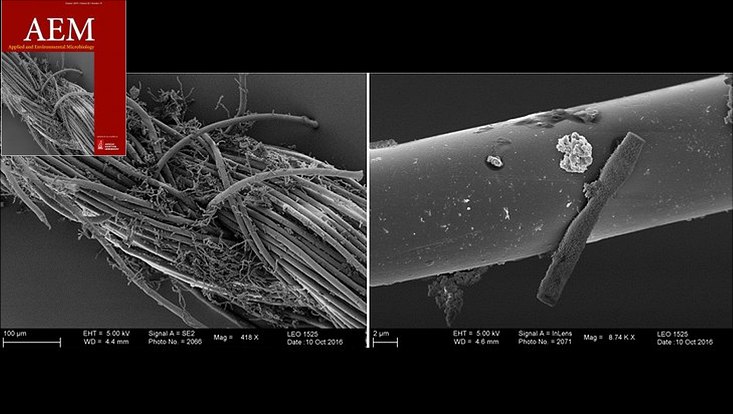 Photo: UHH/Mikrobiologie
Comamonas sp.  forming biofilms on PET fibres. From the cover of AEM 19 and modified after Danso et al., 2019
Photo: UHH/Mikrobiologie
3D-structure of a metagenome-derived oxidoreductase 3RKR involved in quenching auf Quorum sensing molecules in gram negative bacteria (Bijtenhoorn et al., 2011)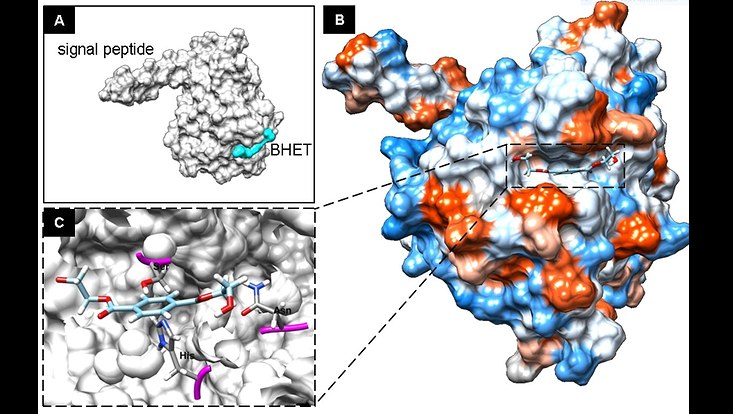 Photo: UHH/Mikrobiologie
3D-Structure prediction model of PET2 a metagenome-derived PET esterase and Bishydroxyethyl Therepthalic (BHET) acid fitting into the active site.  The image was derived from Danso et al., 2018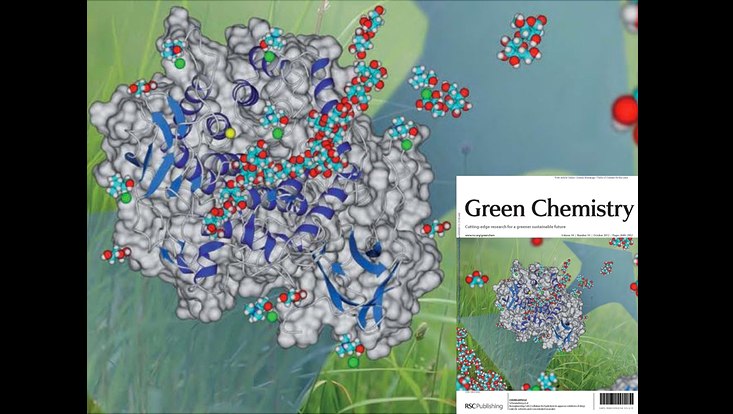 Photo: UHH/Mikrobiologie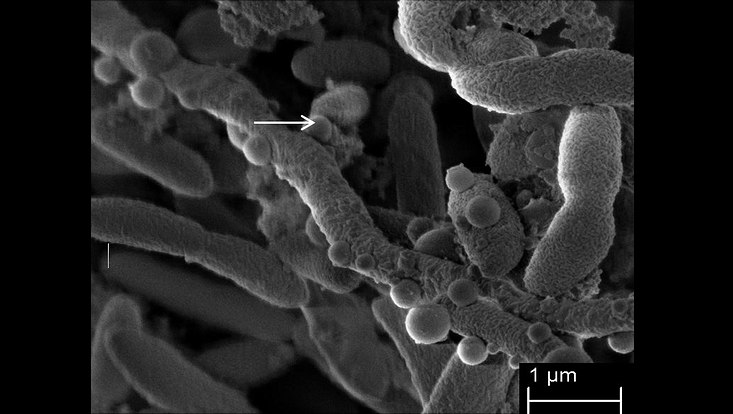 Photo: UHH/Mikrobiologie
Stenotrophomonas maltophilia forming very long filamentous cells and outer membrane vesicles. Image derived from Abda et al., 2015
---
Contact
Team assistant
Microbiology and Biotechnology
Institute of Plant Science and Microbiology
Ohnhorststr. 18, Room 3.154
22609 Hamburg
Fax: +49 40 428 16 459
Office hours
on Mondays, Tuesdays and Thursdays