Prof. Dr. Wolfgang Streit
I. Functional Metagenomics
First, we are interested in exploiting the metagenomes of the non-cultivated microorganisms for basic and fundamental research. Today we know that 99 % of all microorganisms are difficult or impossible to cultivate (Streit & Schmitz, 2004; Streit et al., 2004). In particular, we are interested in the isolation and functional characterization of lipases, esterases, and others for industrial applications (Martinez et al., 2018; Chow et al., 2012; Rabausch et al., 2013). Among many others, we are searching for enzymes for the degradation of PET (polyethylene terephthalate) and other plastics on a global level (Danso et al., 2018). Thereby, we also assign functions to hitherto unknown esterase for the microbial metabolism (Chow et al., 2018). In addition, we are working on the development of in vitro systems to gain faster access to the proteins of non-cultured organisms (Kinfu et al., 2017).
II. Biofilm formation/removal
In our second project, we are interested in microbial biofilms. The majority of all microorganism on earth lives in biofilms. Here we are very much interested in questions concerning biofilm inhibition and removal, but also cell-cell communication in these complex communities. We either work with complex native biofilms and/or we build complex multispecies biofilms with model organisms such as Stenotrophomonas maltophilia living in close relation with the pathogenic bacterium Pseudomonas aeruginosa (Steinmann et al., 2018; Abda et al., 2016). With respect to the native and complex biofilms, we are very much interested in using omics technologies to understand the interaction and roles of the different bacteria within the consortia (Krohn-Molt et al., 2013 and 2017; Schmeisser et al., 2017).
III. Cell-Cell Communication
Thirdly, we are interested in cell-cell communication of bacteria. Here we are especially interested in processes linked to Quorum Sensing (QS) and Quorum Quenching (QQ) in gram-negative bacteria: We study of the influence QS and QQ on phenotypic heterogeneity (Grote et al., 2015), biofilm formation and on the role during infection of eukaryotic hosts. Thereby we work with the model organism Sinorhizobium fredii, Burkholderia glumae and Janthionbacterium/Duganella species. (Krysciak et al., 2011, 2014; Grote et al., 2016; Gao et al., 2015; Hornung et al., 2013; Haack et al., 2016).
1 von 3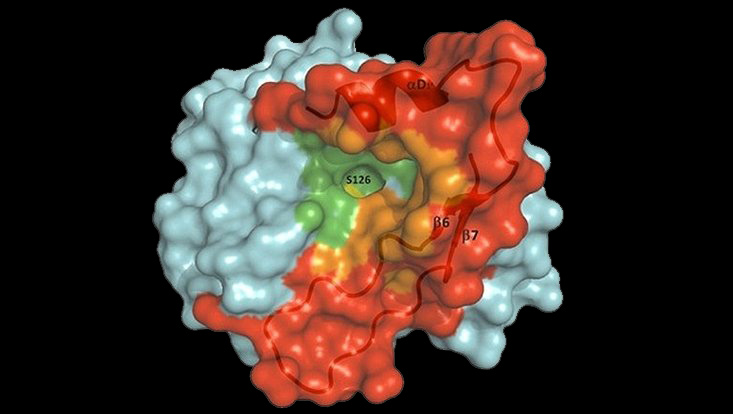 Photo: UHH/Mikrobiologie
I. 3D-structure of the metagenome derived Lipase LipS (Chow et al., 2012, 4FBL). LipS is a true lipase with a high potential for application in biotechnology.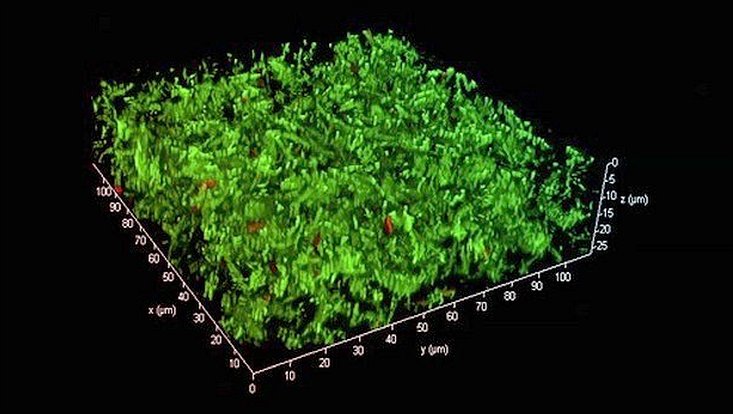 Photo: UHH/Mikrobiologie
II. 3D-structure of a bacterial biofilm in a flow cell produced by Stenotrophomonas maltophilia, an emerging pathogen (Cells were visualized with the life dead stain)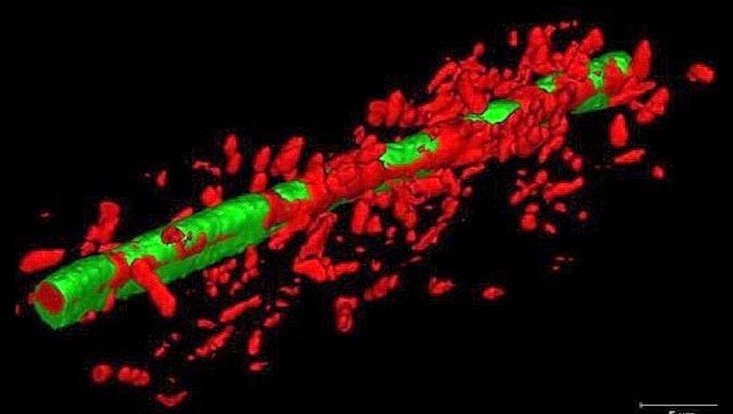 Photo: UHH/Mikrobiologie
III. Microbial biofilm produced by Janthinobacterium sp. HH102 (red) on the plant pathogenic fungus Fusarium graminearum (green) (Haack et al., 2016)
---
Contact
Team assistant
Microbiology and Biotechnology
Institute of Plant Science and Microbiology
Ohnhorststr. 18, Room 3.154
22609 Hamburg
Fax: +49 40 428 16 459
Office hours
on Mondays, Tuesdays and Thursdays