Nanofibrills
Nanofibrills: Wood-based hybrid nanocomposites as multifunctional high-performance starting materials for 3D printing
Project description
This research project deals with the production and characterization of wood-based hybrid materials for application as 3D-printed, reinforced nanocomposite materials as well as the potential application as bio-based scaffolding materials. A naturally occurring biopolymer, nanocellulose, is modified chemically to produce ultra-light, highly resistant 3D-printed structures and scaffolding materials on a biological basis.
The aim of the research project is to develop a universal structural substance based on nanocellulose by chemically modifying its surface through a controlled radical polymerization. The first derivatization of nanocellulose is done by an esterification reaction. This creates a nanocellulose-based macroinitiator. Meanwhile, inorganic nanoparticles are also modified on its surface to introduce specific monomers into the outer ligand shell. Subsequently, the ability of the produced nanocellulose-based macroinitiator to initiate a controlled radical polymerization of different monomers is investigated. This is done in the presence of the modified nanoparticles to create a crosslinking between the nanocellulose fibrils. A schematic representation of this chemical approach is shown in the following figure: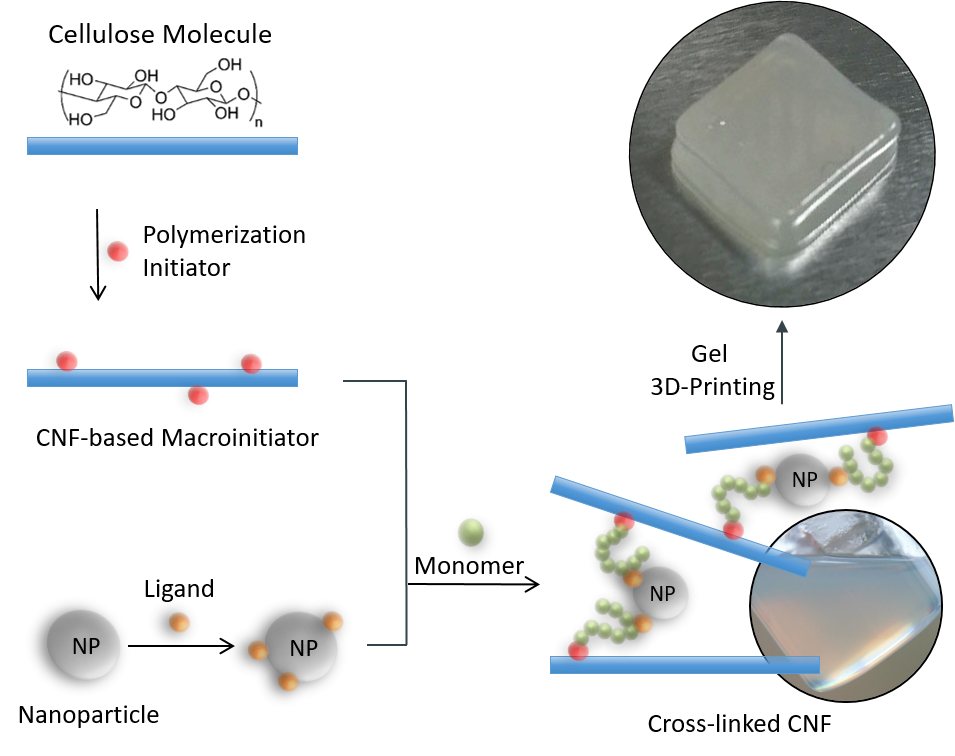 Through controlled radical polymerization, the previously selected monomers grow on the nanocellulose while simultaneously linking the inorganic nanoparticles to the nanocellulose. The inorganic nanoparticles have two main tasks: 1. Depending on their material, they transfer their properties to the final material (these can be magnetic or catalytic properties, for example, or light respectively UV protection). 2. They act as cross-linking agents between the individual CNFs, forming a strong and resistant network of fibrils. The cross-linked fibrils made of hybrid nanocellulose are then processed by 3D printing.
Processing the final material using 3D printing has several advantages. First, it provides a sustainable source material for additive manufacturing, since most commercially available raw materials for 3D printing are currently based on fossil sources. Secondly, 3D printing offers the possibility of producing complex, very light and highly structured workpieces. However, 3D printing does not require specific and expensive molds or tools. In addition, this technology offers further advantages, such as very light objects, completely individually designed and complex structures or simulated, highly developed structures with a high degree of precision.
Duration
01.03.2019 – 31.08.2020
Funding
Supported by the Fachagentur Nachwachsende Rohstoffe e.V. (FNR) and the Federal Ministry of Food and Agriculture (BMEL). 
Funding code: 22004518