Research
The human brain is the most complex structure known by men. Many millions of neurons are connected to each other by billions of synapses and transmit information. How are these connections established? And how does the brain decipher the enormous flood of information, thereby generating highly coordinated processes that enable us to think, communicate and act? We study the molecular and cellular mechanisms of communication between brain cells such as neurons and glial cells to approach the answers to these questions.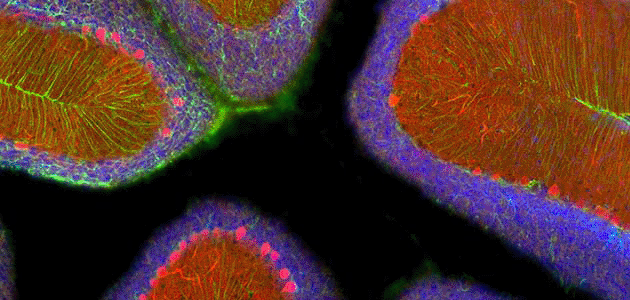 Functions of Glial Cells
Besides neurons, glial cells are the main constituents of the nerves system. They fulfil manifold functions such as the supply of neurons with nutrients, the regulation of the extracellular ion millieu, the modulation of synaptic transmission and neurovascular coupling. In addition, glial cells play an important role in the olfactory nerve by supporting growth of developing or regenerating axons in adulthood, while in other parts of the central nervous system axonal regeneration is largly suppressed. We study interactions between axons and olfactory nerve glial cells (olfactory ensheathing cells) to unravel how glial cells control axon growth. We use calcium imaging and immunohistology.
Information processing in the olfactory bulb
Odour information is detected by sensory neurons, the olfactory receptor neurons, in tha nasal cavity and transmitted in the form of action potentials into the brain. The first relais station of odour information processing in the brain is the olfactory bulb. Here, odour information is translated into a code of activity and transmitted to the cortex where odour perception takes place. We are interested in the modulatory action of purinergic signalling, i.e. ATP, ADP, adenosine and their respective receptors, on neuronal performance such as excitability and synaptic transmission. We employ patch-clamp recordings and calcium imaging.
Role of adenine nucleotide signalling in multiple sclerosis and experimental autoimmunencephalomyelitis
In Collaboration with Manuel Friese and Christine Gee we investigate how neuroinflammation affects neurons and glial cells. In particular, we are interested in neuromodulation by adenosine as well as in cAMP signaling. The projects are part of the collaborative research center SFB 1328 "Adenine Nucleotides in Immunity and Inflammation".
---