Welcome to the research projects of Dr. Dirk Becker
My research group deals with biotechnological and genetic research projects for crop plants with emphasis on cereals, rapeseed and tobacco. Initially, it is necessary to develop in vitro culture systems for an efficient regeneration of plants and, based on that, to establish transformation methods. At present, maize and rapeseeds are routinely transformed in current research projects.
In preceding research projects and by means of these transformation methods we could, for instance, establish starch as renewable resource with defined and partly new characteristics in wheat for the food and non-food sector. Another research focus dealt with the function of storage proteins during dough production of maize and wheat and experiments to improve the baking properties of maize meals through transfer of wheat storage proteins in maize. Additionally, approaches to improve fungal resistance in wheat and millet on transgenic plants were examined.
In vitro Culture Systems
An in vitro culture system is a sterile culture of plant single cells or cell aggregates on sterile nutrient medium. Plant cell cultures are used for mass reproduction in plant breeding and as cultures of origin for transformation methods. We have gathered many years of experience in cereal cell culture and establishing transformation methods in cereals, tobacco, Arabidopsis and rapeseed. As transformation methods we apply protoplast transformation, biolistic transformation and Agrobacteria-mediated DNA transfer.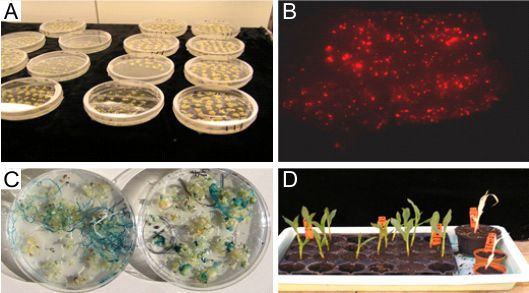 In vitro Culture and Transformation of Maize
A: In vitro callus culture of maize, B: dsRed expression in poplar callus after biolistic transformation, C: GUS activity in maize callus culture and regenerates, D: transgenic maize plants after establishment in soil.
TALEN- and CRISPR/Cas9 Recombinases
TALEN and CRISPR/Cas9 are novel sequence-specific recombinases for genome modification in animal and plant cells. Principally, both systems can target any location in the genome. After binding the Talen  protein or the nucleoprotein complex of a sequence-specific RNA and the Cas9-protein to the targeted DNA, double strand break occurs. Repairing the double strand normally leads to deletion of single nucleotides and, thus, to an alteration of the reading frame of the protein, whose function is being destroyed. Both sequence-specific recombinase systems can also be used for targeted integration of DNA.
Genome editing by site-specific endonucleases (e. g., TALEN, CRISPR / Cas9) allows accelerating  the breeding process. Advantages are the possibility of a) creation of new genetic variation, b) targeted shutdown or modification of gene activity or function, c) circumvention of the genetic problem of linkage drag and thus often associated yield losses and d) parallel processing of multiple loci. At the same time, the rapid development of sequencing techniques allows the accelerated identification of feature-relevant genes as targets of directed editing.
Modification of plant genomes that do not require DNA integration is beneficial in both commercial and academic settings. Since the transfer of proteins into cells (so far) has not fallen under the regulations of the Genetic Engineering Act, cells and organisms produced in this way have not been classified as transgenic.
The main aim of the AG Becker is to develop methods for genome editing that do not require the stable or transient integration of nucleic acids. Instead, we use isolated Cas9 and TALEN proteins to transfer them directly into single cells (protoplasts) and intact tissues by using cell penetrating peptides (CPP). The optimization of the transfer parameters for different target tissues is carried out with GFP proteins allow or as translational fusions of TALEN / Cas9-GFP proteins.