MSc in Biology
In the MSc Biology curriculum, we offer the following teaching unit:
Please note: currently, our teaching sessions in the MSc curriculum are in German – but we can switch to English on demand
Concepts, Methods an Techniques of Systematics (CoMeTS)

Target group: MSc students in biology

61-531  History of Systematics (Lecture)

Jens G. Rohwer
Who really wishes to understand the works of earlier authors should have an idea of the conditions under which they originated.  The state of knowledge in all other sciences and technology is such an important factor, likewise the predominant philosophical concepts, religious convictions, political and economic conditions.  The lecture is intended to give an overview about the development of biological systematics from classical antiquity up to the most recent developments, and to explain conventions that continue to have an effect until today.
61-532  Concepts, Methods an Techniques of Systematics (lecture / seminar / exercise)

Jens G. Rohwer

Topics of this unit are definition, recording and analysis of characters, the value of herbarium material for research, the most important databases, literature and internet resources, rules of botanical nomenclature and conventions of taxonomy, systematics and phylogenetics.
61-533  Methods of Preparation and Lab Work (practical course)

Felicitas Gunter, Jens G. Rohwer

You will learn to apply preparation methods for (micro-)morphological analyses, from the dissecting microscope to the scanning electron microscope, on request also anatomical methods.  In addition, you will perform all steps needed to derive a DNA sequence from a leaf – and to recognize possible sources of error during this process.
61-534  Data Analysis in Phylogenetics and Population Biology (exercise)

Jens G. Rohwer, Felicitas Gunter

Here you will learn how to analyse the previously recorded data, especially to edit and align DNA sequences and to construct phylogenetic trees with different algorithms.  You will get to know which techniques may be suitable for which kind of problems, and what are the limitations of the respective methods.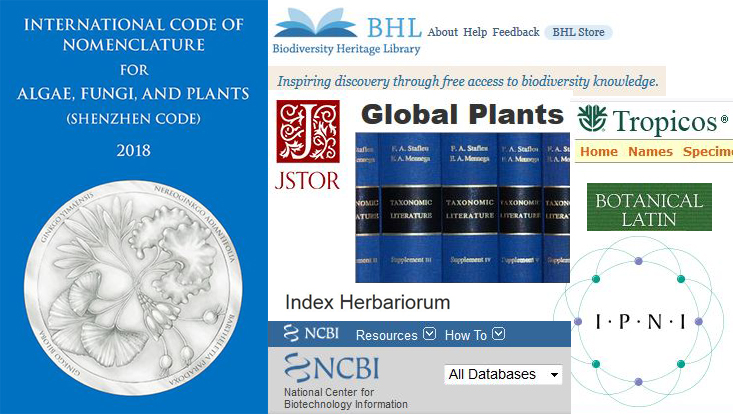 Photo: UHH/Rohwer
Some of the most important sources of information for taxonomy and systematics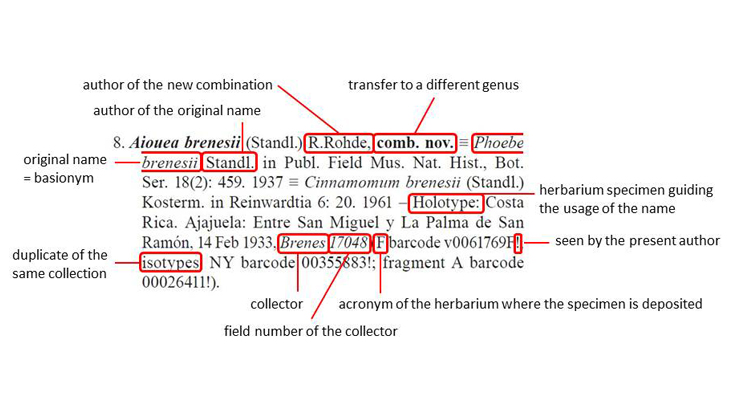 Photo: UHH/Rohwer
Explanation of some basic taxonomic terminology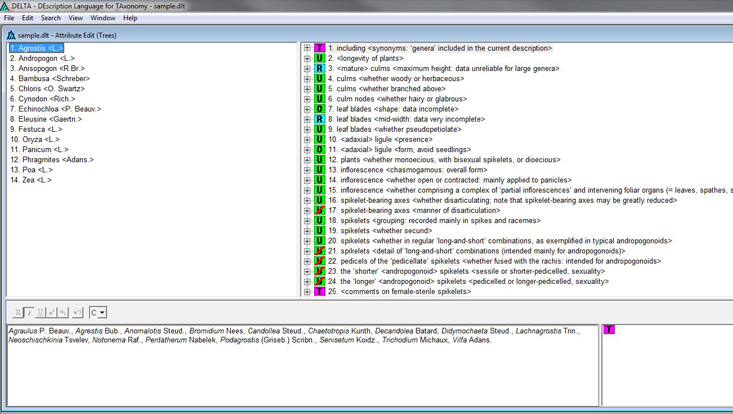 Photo: UHH/Rohwer
Screenshot of the sample file of the DELTA editor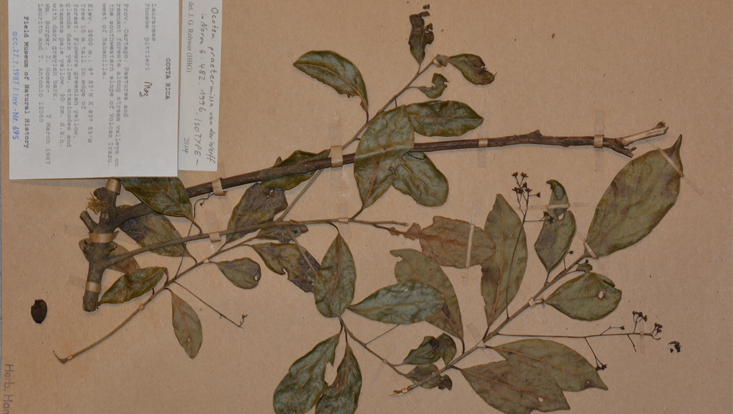 Photo: UHH/Rohwer
Herbarium sheet from the herbarium HBG, isotype of Ocotea praetermissa van der Werff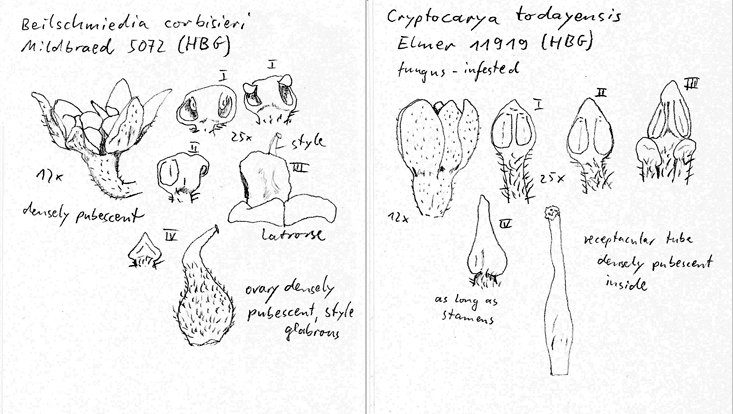 Photo: UHH/Rohwer
Camera lucida drawings of floral details of Lauraceae; left: Beilschmiedia corbisieri (Robyns) Robyns & R. Wilczek; right: Cryptocarya todayensis Elmer, isosyntype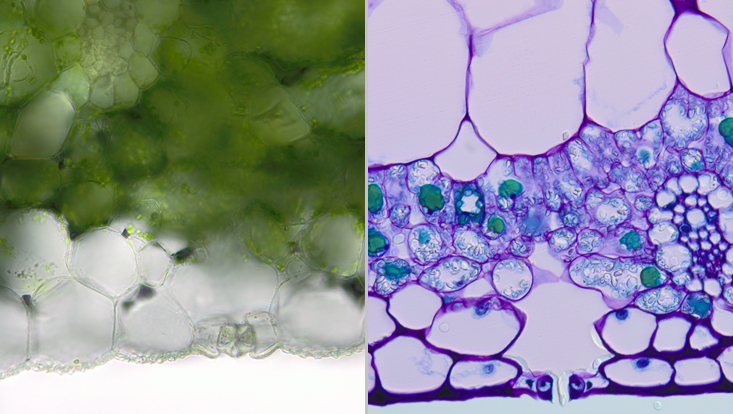 Photo: UHH/Rohwer
Leaf cross sections of Cyanotis in the light microscope, detail near the lower leaf surface, including sections of stomata: fresh material (left); methacrylate-embedded and stained section (right)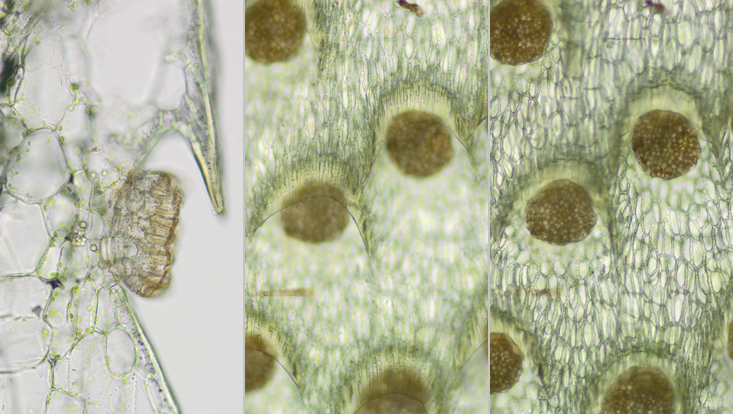 Photo: UHH/Rohwer
Light microscope photos of details of the pitcher of Nepenthes: cross section with gland (left) and surface view in different focal planes (center and right)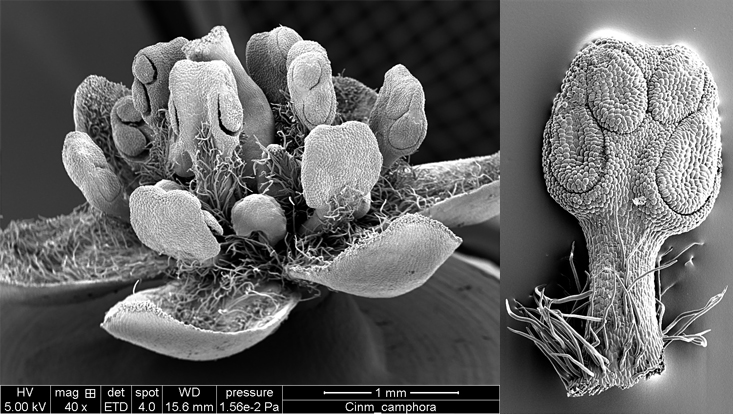 Photo: UHH/Rohwer
Scanning electron microscope photos of Cinnamomum camphora: entire flower (left); stamen of the first androecial whorl (right)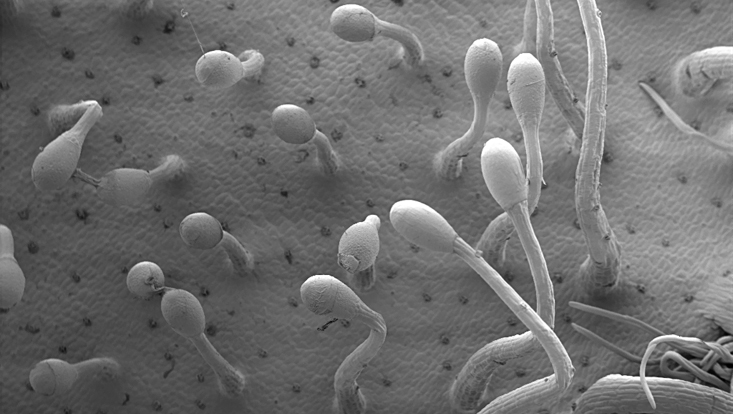 Photo: UHH/Rohwer
Scanning electron microscope photos of the upper leaf surface of Drosera, with long stalked adhesive glands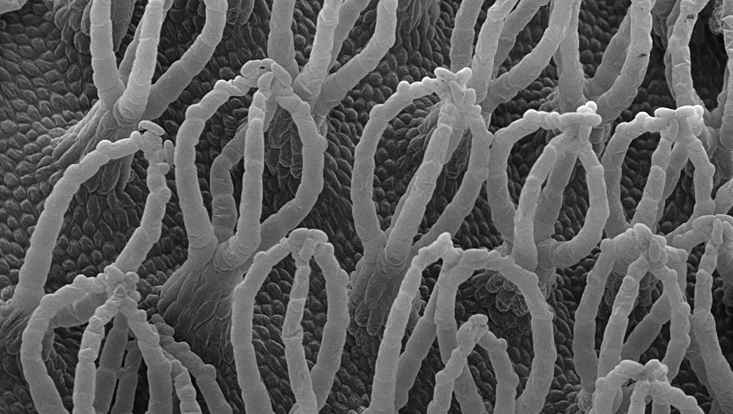 Photo: UHH/Rohwer
Scanning electron microscope photo of the upper leaf surface of Salvinia, with water-repellent trichomes supporting floatation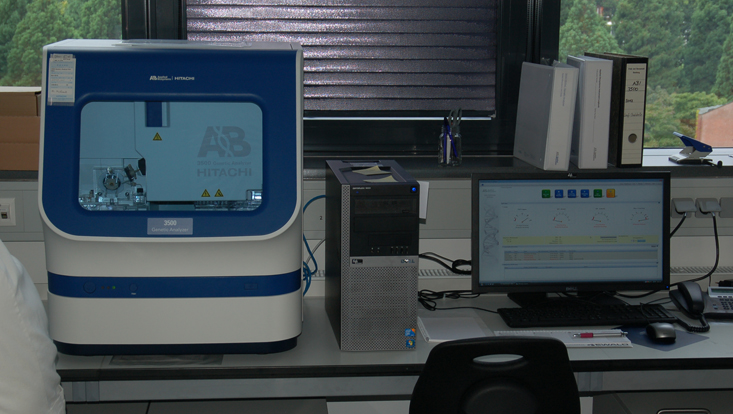 Photo: UHH/Rohwer
ABI 3500 capillary sequencer in our sequencing lab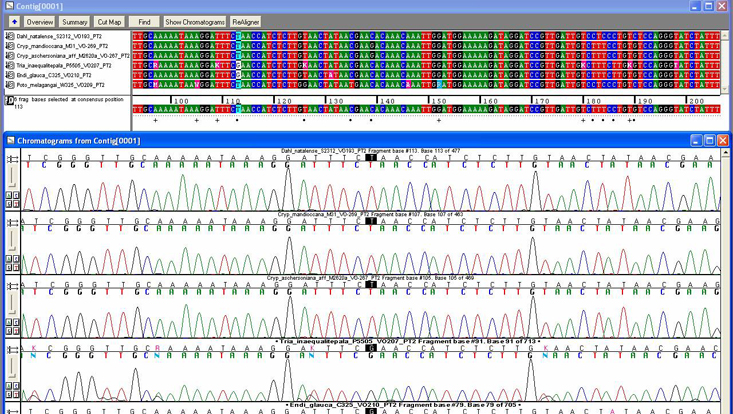 Photo: UHH/Rohwer
Screenshot of an alignment of DNA sequences and their chromatograms
Photo: UHH/Rohwer
Part of a phylogenetic tree (phylogram)
Key Qualifications
Lecturers changing regularly


Target group: MSc students in biology
61-510  Scientific Practice (lecture / seminar)

All professors of the department of biology

This teaching unit deals with basic issues such as
career chances

development of a scientific question

scientific publishing

grant applications and financing of research

good scientific practice

scientific misconduct