Leam Mykel Martes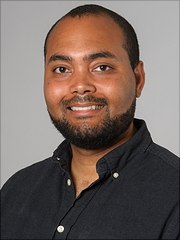 Doctorial Candidate
World Forestry
Address
Universität Hamburg
Faculty of Mathematics, Informatics and Natural Sciences
Department Biology
Institute of Wood Science
World Forestry
Leuschnerstr. 91 e
21031 Hamburg
Office
Main building
Room: 316
Contact
Fax: +49 40 73962-199
Field of Research
Field of research
Forest management
Carbon accounting
Forest modelling
Specialisation
Modelling forest growth and carbon sequestration
Harvested wood product carbon pool
Modelling ecological systems
National carbon balance projections and reporting
Expertise
Western Europe
Bolivia
Lesser Antilles
Scientific CV
Education
2014-2017 B.Sc. Bos- en Natuurbeheer. Wageningen University and Research (WUR), The Netherlands. B.Sc. thesis: Using harvest data to test biomass equations for tropical rainforests in Kabo, Surinam.
2017-2020 M.Sc. Forest and Nature conservation, Specialization: Ecology Wageningen University and Research (WUR). M.Sc. thesis: Effects of anthropogenic disturbances on population dynamics of Attalea princeps in the Beni savannah, Bolivia
Work experience
Since 2020: Doctoral candidate, World forestry. Topic: Modelling forest carbon dynamics in a changing climate.

 
Projects
FAO: Creating a model for the aggregation and calculation of carbon storage in Harvested Wood products using the FAOSTAT database.
Stichting Probos: Creating software tools to assist in the calculations of the Dutch national carbon accounting.
Publications
Martes, L. M., Köhl, M.. "Improving the Contribution of Forests to Carbon Neutrality under Different Policies—A Case Study from the Hamburg Metropolitan Area". Sustainability 14(4) (2022) zum Artikel
Complete list of publications