Alfonso Aceves-Aparicio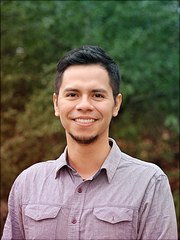 Doctoral student
Address
Universität Hamburg
Faculty of Mathematics, Informatics and Natural Sciences
Biologie
Institute of Cell and Systems Biology of Animals
Behavioral Biology
Martin-Luther-King-Platz 3
20146 Hamburg
Office
Institute of Cell and Systems Biology of Animals
Room: 620
Contact
Research interests
I am interested in the evolution of animal adaptations to the habitats they live in. My current research is focused in the adaptations of spiders to the particular habitat of tree trunks. As spiders can be predators and prey in most habitats I am studying the capture strategies and the mechanisms used to avoid becoming prey.
For this, my work includes three different species of spiders that are permanent residents of tree trunks: Two-tail spiders (Hersiliidae), the Australian ant-slayer (Euryopis umbilicata) and the uncommon ambush hunting of the jumping spider Arasia mullion (Salticidae).
My methodological approach includes, spectrometry, modelling of camouflage strategies to the visual systems of potential predator and prey, high speed video analysis, movement tracking and Scanning Electron Imaging.
Publications
Aceves-Aparacio, A., Narendra A., McLean DJ, Lowe C.E., Christian M., Wolff JO, Schneider J.M., Herberstein M.E. 2022. Fast acrobatic manoeuvres enable arboreal spiders to hunt dangerous prey. Proceedings of the National Academy of Science 119 (40) e2205942119 https://doi.org/10.1073/pnas.2205942119
Aceves-Aparacio A, McLean DJ, Wild .K, Schneider JM, Herberstein ME 2022. Novel decorating behaviour of silk retreats in a challenging habitat. PeerJ, 10:e12839 https://doi.org/10.7717/peerj.12839
Aceves-Aparicio, A., Tapia-McClung, H., Macías-Ordóñez, R., & Rao, D. (2018). Subsocial spiders in space and time: A fine scale approach to the dynamics of dispersal. Ethology, 146(4), 453–10. http://doi.org/10.1111/eth.12749
Hebets, E. A., Aceves-Aparicio, A., Aguilar-Argüello, S., Bingman, V. P., Escalante, I., Gering, E. J., et al. (2014). Multimodal sensory reliance in the nocturnal homing of the amblypygid Phrynus pseudoparvulus (Class Arachnida, Order Amblypygi)? Behavioural Processes, 108, 123–130. http://doi.org/10.1016/j.beproc.2014.09.014
Rao, D., & Aceves-Aparicio, A. (2012). Notes on the ecology and behavior of a subsocial spider Anelosimus baeza (Araneae: Theridiidae) in Mexico. The Journal of Arachnology, 40(3), 325–331. http://doi.org/10.1636/Hi12-23.1