This page:UHH > MIN > Department of Biology > Research > RTG2530 > Life blog > 2021 > Collecting samples on the research vessel Prandtl
Collecting samples on the research vessel Prandtl
22 June 2021, by RTG2530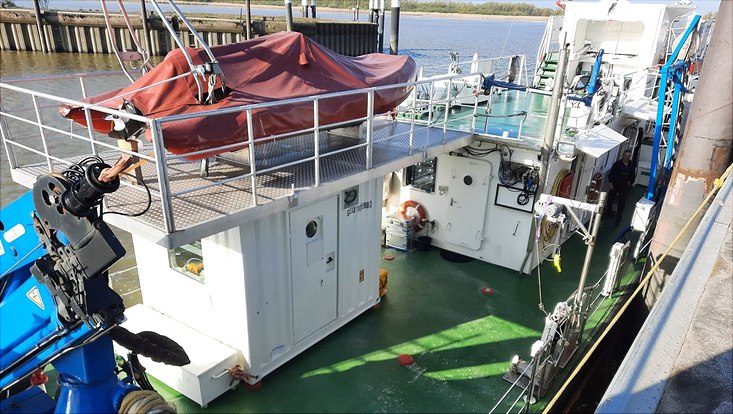 Photo: IGB/Sven Tobias-Hünefeldt
The "Ludwig Prandtl" belongs to the Helmholtz-Zentrum Hereon. It is a German research vessel built specifically for use in shallow water areas such as estuaries or mudflat areas. Named after the German physicist Ludwig Prandtl, the ship regularly sails the Elbe to collect samples for different research projects.
Our doctoral researcher Sven Tobias-Hünefeldt (shared with the Leibniz Institute of Freshwater Ecology and Inland Fisheries) went on the research vessel "Ludwig Prandtl" to collect samples for his research project and documented parts of the trip with his camera. The research trip was organised together with BluEs – Blue_Estuaries – "Feeding ecology and growth of fishes - a contribution to the analysis of functional diversity and food webs in the Elbe and Oder estuaries" and the Helmholtz-Zentrum Hereon, Department "Aquatic Nutrient Cycles".
"Estuaries are rapidly changing ecosystems with relevance for the global carbon cycle. In estuaries, conditions like salinity, oxygen, and dissolved carbon concentrations affect the amount of carbon exchanged with the atmosphere. In the first year of my PhD, I want to know what organisms and genes are involved in processing carbon in Germany's largest estuary - the Elbe. Microbial life in the Elbe comes in two main life-styles; some remain free, drifting along in the water by themselves, while other microorganisms attach themselves, or are caught up in larger particles. These particles are important aspects of estuarine carbon cycling, and differences have been identified based on their make-up. Therefore, I separate particles into lighter (suspended) and heavier (sinking) portions to determine their microbial community and metabolic potential.
I also look at the particles under the microscope, staining DNA to detect microorganisms and analyse special materials e.g. exopolysaccharides (TEP) and proteins (CSP) that microorganisms are thought to produce to stick together, keep floating, and use as an energy source.
Together these measures will help determine what is actually happening in the Elbe, specifically who is capable of processing the carbon in the water and how"