Dr. Steffen Funk
Post.Doc.
Anschrift
Universität Hamburg
Fakultät für Mathematik, Informatik und Naturwissenschaften
Fachbereich Biologie
Institut für marine Ökosystem- und Fischereiwissenschaften
Marine Ökosystemdynamik
Große Elbstraße 133
22767 Hamburg
Büro
Raum: 113
Kontakt
Research Interests
My research focusses mostly on western Baltic cod but also on other (mostly demersal) species in the western Baltic Sea and adjacent ecosystems. Especially I am interested in
Ecophysiology
Feeding behaviour (including stomach content analyses, gastric evacuation & growth studies)
Habitat use
Spawning phenology
Publications
Christian Möllmann, Xochitl Cormon, Steffen Funk, Saskia A. Otto, Jörn O. Schmidt, Heike Schwermer, Camilla Sguotti, Rudi Voss & Martin Quaas. "Tipping point realized in cod fishery". Scientific reports Volume 11, Article 14259. (2021) https://www.nature.com/articles/s41598-021-93843-z
Funk, S., Frelat, R., Möllmann, C., Temming, A., and Krumme U.. "The forgotten feeding ground: patterns in seasonal and depth-specific food intake of adult cod Gadus morhua in the Western Baltic Sea". Journal of Fish Biology Volume 98, Issue 3. (2021): S. 707–722.https://onlinelibrary.wiley.com/doi/10.1111/jfb.14615
Plonus, R., McQuenn, K., Günther, C., Funk, S., Temming, A., and Krumme, U.. "Is analysis of otolith microstructure a valid method for investigating early life history of Western Baltic cod?". Marine Biology Volume 168, Article 30. (2021) https://link.springer.com/article/10.1007/s00227-021-03834-x
Schwermer, H., Aminpour, P., Reza, C., Funk, S., Möllmann, C., and Gray, S.. "Modeling and understanding social-knowledge diversity". Conservation Science and Practice Volume 3, Issue 5. (2021): S. e396.https://conbio.onlinelibrary.wiley.com/doi/10.1111/csp2.396
Funk S., Krumme U., Temming A., Möllmann, C.. "Gillnet fishers' knowledge reveals seasonality in depth and habitat use of cod (Gadus morhua) in the Western Baltic Sea". ICES Journal of Marine Science Volume 77, Issue 5. (2020): S. 1816-1829.doi
Vollständige Publikationsliste
Oral presentations
Funk, S., Krumme, U., Temming, A. and Möllmann, C. (2019). Seasonality in depth and habitat use of Western Baltic cod (Gadus morhua) revealed by fishers' ecological knowledge. ICES Annual Science Conference, 2019: A308.
Zach, J., Busse, C., Funk, S., Möllmann, C., Renner, B.-C., Tiedemann, T. (2021). Towards non-invasive fish monitoring in hard-to-access habitats using autonomous underwater vehicles and machine learning. OCEANS conference & exposition, September 2021.
Projekte
SpaCeParti

AuTagBeoFisch
Climate change is dramatically affecting ecosystems around the world and it is also a rising threat for the species of the Baltic Sea. Particularly the fish species are already influenced by several currently acting pressures, one of the major being commercial fisheries. This makes them particularly vulnerable to effects associated with climate change including heat waves and the expansion of oxygen-minimum zones. These effects are likely to influence the species behaviour, their food intake and subsequently growth. In particular, commercially important species of the western Baltic Sea like herring and cod may be among the "great losers" of climate change.
From this perspective, regular scientific monitoring of fish species is an important prerequisite to track the possible impacts climate change and other pressures can have on the population structure and fish stock dynamics additionally providing valuable data for stock assessment. However, despite decades of fish stock monitoring and management, there are still crucial areas in the western Baltic Sea that are not, or not sufficiently, covered by conventional monitoring methods. For example, shallow coastal water zones, which are usually inaccessible to scientific research vessels. Nevertheless, these areas most likely represent key habitats (e.g. as nurseries) for many fish species within the ecosystem.
In the interdisciplinary collaborative project AuTagBeoFisch ("Autonomous Diving Robot-Based Observation of Fish Swarms"), scientists from the University of Hamburg (Institute of Marine Ecosystem and Fisheries Sciences – IMF), the Hamburg University of Applied Sciences (HAW) and the Hamburg University of Technology (TUHH) are currently developing a diving robot monitoring tool. The diving robot will autonomously explore areas (using high resolution sensory systems) that were previously inaccessible or difficult to access with traditional monitoring methods. Chances are high that the newly developed tools will improve the general ecological understanding of commercially important species (such as cod and herring in the western Baltic Sea) and thus help to better assess the consequences of future climate change on the behaviour and distribution changes of these species. The project is funded by the Ministry of Science, Research and Equality (BWFG) as part of the Hamburg State Research Funding.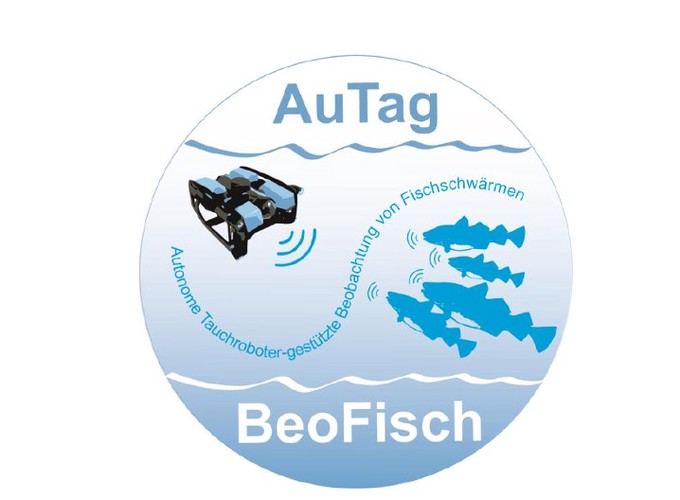 Educational Background
2017-2020 Doctor in Biology, Institute of Marine Ecosystem and Fisheries Science, University of Hamburg
2014-2017 MSc in Marine Ecosystem and Fisheries Science, University of Hamburg
2011-2014 BSc in Biology, University of Hamburg
Employment
2021-ongoing Scientist at the Institute of Marine Ecosystem and Fisheries Science, University of Hamburg in the project SpaCeParti
2020-2021 Scientist at the Institute of Marine Ecosystem and Fisheries Science, University of Hamburg in the project AuTagBeoFisch
2017-2020 Scientist at the Institute of Marine Ecosystem and Fisheries Science, University of Hamburg in the project BONUS BLUEWEBS