Jun.-Prof. Dr. Esther Diekhof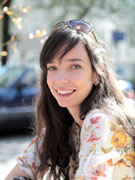 Jun.-Professur Neuroendokrinologie
Leitung der Abteilung Neuroendokrinologie
Anschrift
Universität Hamburg
Fakultät für Mathematik, Informatik und Naturwissenschaften
Fachbereich Biologie
Institut für Zell- und Systembiologie der Tiere
Neuroendokrinologie
Martin-Luther-King-Platz 3
20146 Hamburg
Büro
Institut für Zell- und Systembiologie der Tiere
Raum: 413
Kontakt
Fax: +49 40 42838 - 9718
Wissenschaftlicher Werdegang
| | |
| --- | --- |
| Jetzt - 2011 | Juniorprofessorin für Humanbiologie und Neuroendokrinologie an die Universität Hamburg Germany; , seit 15/07/15  50% Elternteilzeit |
| 2015 - 2014 | Elternzeit from 16/04/14 – 14/07/15 |
| 2011 | Berufung auf die Juniorprofessur für Humanbiologie an die Universität Hamburg |
| 2011 - 2006 | Wissenschaftliche Mitarbeiterin am Zentrum für Translationale Forschung in Systemischen Neurowissenschaften und Klinischer Psychiatrie, Klinik für Psychiatrie und Psychotherapie, Georg-August- Universität Göttingen |
| 2007 - 2004 | Promotion zum Doktor der Theoretischen Medizin (Dr. rer. med.) an der Universität des Saarlandes ("magna cum laude") |
| 2006 - 2004 | Wissenschaftliche Mitarbeiterin in der Arbeitsgruppe "Kognitive Neurowissenschaften in der Psychiatrie" des Universitätsklinikums des Saarlandes |
| 2004 - 2002 | Mitarbeiterin am Picker Institut Deutschland (gGmbH) in Hamburg |
| 2003 - 1997 | Magisterstudium der Anthropologie (Nebenfächer: Ethnologie und Psychologie ) an der Universität Hamburg. ("mit Auszeichnung") |
Forschungsinteressen
Meine Forschungsinteressen liegen in den Gebieten der Verhaltensbiologie und kognitiven Neurowissenschaften, mit einem besonderen Fokus auf der Erforschung biologischer Ursachen von Geschlechterunterschieden im menschlichen Verhalten und assoziierten hirnphysiologischen Prozessen. Ich untersuche dabei den modulierenden Einfluss verschiedener Steroidhormone (z.B. Östradiol, Testosteron) auf beobachtbares Verhalten (z.B. Impulsivität, Dominanzverhalten) sowie auf funktionsbezogene Aktivitäts- und Konnektivitätsmuster im menschlichen Gehirn. Weiterhin interessieren mich soziobiologische Fragestellungen zur Evolution von Geschlechterunterschieden in verschiedenen sozio-kognitiven Prozessen (z.B. im Kontext der Partnerwahl).
Methodenspektrum
Computerbasierte Verhaltensexperimente (Verhaltensbiologisches Testlabor im Biozentrum Grindel)
Psychophysiologische Messungen (Elektroenzephalographie (EEG), Bestimmung der Hautleitfähigkeit, Blickbewegungsmessung) (Verhaltensbiologisches Testlabor im Biozentrum Grindel)
Hirnbildgebende Studien unter Verwendung der funktionellen Magnetresonanztomographie in Kooperation mit dem Institut für Systemische Neurowissenschaften am UKE (Leitung: Prof. Christian Büchel)
Bestimmung von Hormonkonzentrationen im Speichel mittels Immuno-Assays
Anthropometrische Verfahren
Publikationen
2022
2021
2020
2019
2018
2017
2016
2015
2014
2012
 2011
2010
2009
2008
Internationale Kongresse
2011
Diekhof EK. Trait impulsivity and interindividual differences in the neural mechanisms underlying self-control. Vortrag auf dem 17. Kongress der Organization for Human Brain Mapping in Québec/ Kanada.
2010
Diekhof EK. The power of imagination. How mental imagery alters perception of fearful faces. Vortrag auf dem 16. Kongress der Organization for Human Brain Mapping in Barcelona/ Spanien.
Preise und Stipendien
2011
Trainee Abstract Award der Organization for Human Brain Mapping (17th Annual Meeting of the Organization for Human Brain Mapping in Québec, Kanada)
Stipendium des Deutschen Akademischen Austauschdienstes (DAAD) (Kongressreise "17th Annual Meeting of the Organization for Human Brain Mapping" in Québec, Kanada)
2009
Stipendium des Deutschen Akademischen Austauschdienstes (DAAD) (Kongressreise "15th Annual Meeting of the Organization for Human Brain Mapping" in San Francisco, CA, USA)
2006
Trainee Abstract Award der Organization for Human Brain Mapping (12th Annual Meeting of the Organization for Human Brain Mapping in Florenz, Italien)
Stipendium der Deutschen Forschungsgemeinschaft (DFG) (Kongressreise "12th Annual Meeting of the Organization for Human Brain Mapping" in Florenz, Italien)
2005
Trainee Abstract Award der Organization for Human Brain Mapping (11th Annual Meeting of the Organization for Human Brain Mapping in Toronto, Kanada)