This page:UHH > MIN > Department of Biology > About the Department > News > Kick-off meeting of BIOHOME project team 2018 in Stellenbosch/South Africa
Kick-off meeting of BIOHOME project team 2018 in Stellenbosch/South Africa
28 March 2018, by Website Team Biologie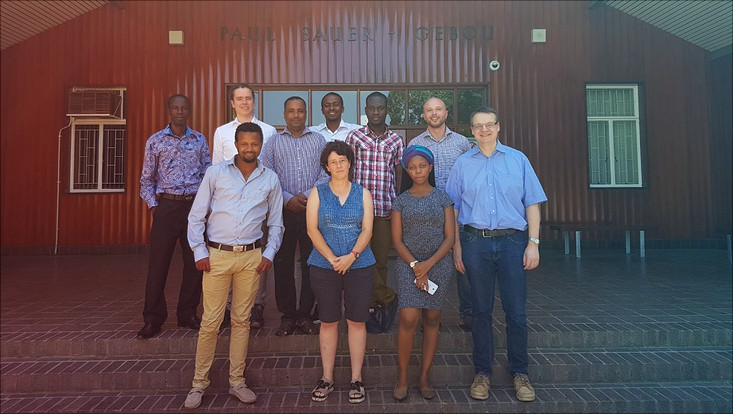 Photo: UHH/Schmidt
The kick-off meeting of the BioHome project was held in South Africa from 5th - 9th February 2018, hosted by the Stellenbosch University. The goal of this project is to develop bio-based composite materials for affordable housing compartments with Sub-Saharan partner universities in a trilateral research and education program. Furthermore, we aim to combine secondary resources such as recycled plastic and fly ash with lignocellulosic feedstocks.
The team focussed three work packages during the stay in Stellenbosch: wood plastic composites (WPC), geopolymer and life cycle assessment (LCA), complementing the participating universities: Universität Hamburg, Stellenbosch University and Hawassa University.
The meeting was carried out successfully in a lively atmosphere.  Basic characteristics of the used materials and final utilization of the products were thoroughly discussed. Thanks to a local entrepreneur and the official town engineer (M. Snyman, S. Haider) valuable insights into a landfill site and recycling facility were given. Subsequently, Mr. Kamohelo Mculu (Coordinator at Stellenbosch Municipality) explained constraints and chances of governmental budget for social housing in the "Reconstruction and Development Programme" (RDP).
The whole visit was biased by the current drought problem in Cape Town region. Water scarcity must therefore be an additional critical factor in the development of the project's goals.
BioHome project team, (l.t.r.) front row: Yenealem Yilma (HU), Martina Meincken, Tenele Dlamini (SU), Andreas Krause (UHH); back row: James Boakye (SU), Goran Schmidt (TI), Tefera Belay, Amsalu Tolessa (HU), Bright Asante, Marco De Angelis (UHH)