This page:UHH > MIN > Department of Biology > About the Department > News > Announcement of 15 PhD positions
Announcement of 15 PhD positions
7 July 2020, by Website Team Biologie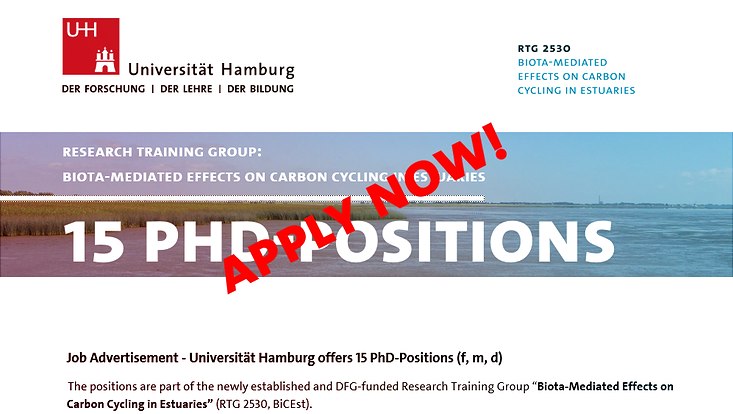 Photo: UHH/MIN/GRK2530
The Research Training Group "Biota-mediated effects on Carbon cycling in Estuaries" (RTG2530) has announced 15 PhD positions. Deadline for applications is August 01, 2020.
The GRK2530 is dedicated to the role of biota and biotic interactions in the carbon cycle of estuaries. The importance of biota and biotic interactions for carbon cycle processes will be analysed by the research teams in the Elbe estuary in the coming years. A better understanding of these processes will help to map the effects of living organisms on the carbon cycle in earth system models and to understand the effects of climate change on the carbon cycle.
The RTG2530 involves the Departments of Biology and Earth Sciences of  Universität Hamburg and the Leibniz-Institute of Freshwater Ecology and Inland Fisheries.