Dr. Daniela Yaffar de La Fuente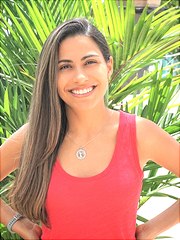 Photo: UHH/Yaffar
Postdoc
Functional Forest Ecology
Address
Universität Hamburg
Faculty of Mathematics, Informatics and Natural Sciences
Department Biology
Haidkrugsweg 1
22885 Barsbüttel-Willinghusen
Office
Room: 2.19
Contact
Fax: +49 40 822459 199
Key aspects of activity
Root trait tradeoffs and synergies for nutrient acquisition and water uptake in tropical moist forests
Tree root responses to global changes (e.g. drought, hurricane, increase of CO2)
Fine-scale ecological interactions between plant roots and mycorrhizal fungi
Root ecology and modelling integration
Plant physiology
I am an ecosystem ecologist. My main interest is understanding the effects of climate change on forest functioning. Specifically, how climatic disturbances (warming, elevated CO2, drought) may affect the rhizosphere (soil-roots-microbes interaction). Most of my experience is based on tropical forests; thus, a great part of my current research and future interest is on tropical ecosystems which are underrepresented in global databases and global ecosystem models.