Prof. Dr. Baris Tursun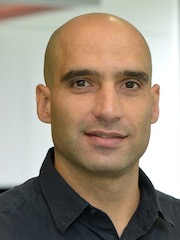 Photo: Tursun
Head of Research Unit
Address
Universität Hamburg
Faculty of Mathematics, Informatics and Natural Sciences
Department of Biology
Institute of Cell and Systems Biology of Animals
Molecular Cell Biology of Animals
Martin-Luther-King-Platz 3
20146 Hamburg
Office
Institute of Cell and Systemsbiology of Animals
Room: 225
Office hours
Contact
Key aspects of activity
Molecular mechanisms of cellular safeguarding
C. elegans as a model for investigating cellular safeguarding
Epigenetics in the context of reprogramming and aging
Interplay of epigenetics and metabolism for cellular safeguarding
Reverse genetics (RNAi) and molecular genomics (ATAC-Seq, ChIP-Seq)
Curriculum Vitae
CURRENT POSITION
since 2021: Professor and Head of Unit for Molecular Cell Biology of Animals at Hamburg University, Germany.
   
PREVIOUS POSITIONS
2012 – 2021: Group Leader Gene regulation and cell fate specification at Berlin Institute for Medical Systems Biology (BIMSB), part of Max Delbrück Center in the Helmholtz Association (MDC), Germany.

2006 – 2012: Postdoctoral Fellow and Francis Goelet Research Scientist in the lab of Oliver Hobert at the Columbia University and Howard Hughes Medical Institute (HHMI), in New York, USA; Neuronal asymmetry and cell fate reprogramming in C. elegans.
2006: Postdoc in the lab of Prof. Dr. Ingolf Bach at the University of Massachusetts (UMASS) Worcester, USA Proteostasis during neural development in hippocampus neurons.

EDUCATION
2002 – 2005 Doctoral Thesis and graduation in the lab of Dr. Ingolf Bach at the Centre for Molecular Neurobiology Hamburg (ZMNH) of the University Clinic Eppendorf (UKE), Germany; Thesis: Ubiquitin ligase activity during neural development in hippocampus neurons.
1996 – 2002 Diploma in Biology with Major in Genetics and Molecular Biology; University of Hamburg, Germany; Thesis: Mitochondrial protein import and processing in S. cerevisiae.


AWARDS AND HONORS
2015 European Research Council STG Grant, HORIZON2020, EU.
2013 Marie Curie Career Reintegration Grant (CIG), FP7, EU.
2008 Francis Goelet Research Fellowship, Goelet Trust for Interdisciplinary Neuroscience Research, USA.
2006 Postdoctoral Fellowship; DFG, Germany.
2002 Doctoral Fellowship, Boehringer Ingelheim Fonds (B.I.F.), Germany.