Research Dr. Peter Bommert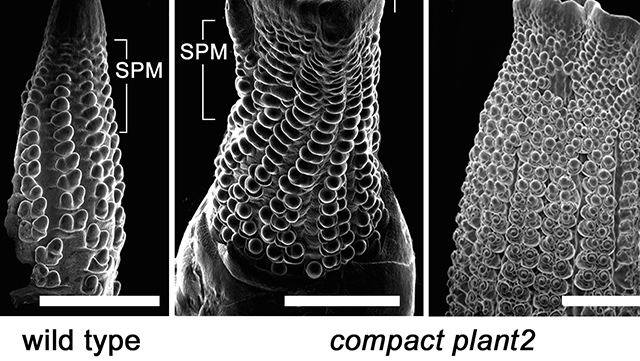 Photo: UHH/Bommert
We are interested in understanding the underlying genetic and molecular mechanisms that shape plant architecture. We are focusing on stem cell development and inflorescence architecture, using maize as a model system. We showed that maize the COMPACT PLANT2 (CT2) gene encodes the predicted a-subunit of the heterotrimeric G protein. Heterotrimeric G protein signaling generally controls a broad spectrum of developmental and physiological processes in plants, including cell proliferation and growth. The complexity of the ct2 mutant phenotype underlines this assumption. Our understanding of heterotrimeric G-protein signaling in plants is still very limited and we are currently investigating how heterotrimeric G proteins coordinate extra- and intracellular signals to ensure controlled cell division.
We are using a variety of methods, including developmental genetics, protein-biochemical assays and state-of-the-art imaging techniques using genomic fluorescent reporter lines. a functional characterization of the six maize Gγ subunits, based on expression analyzes and the phenotypic analysis of their corresponding CRISPR/Cas9-induced mutant phenotypes. The combination of these different approaches is intended to systematically understand the role of G protein-mediated signal transduction in the control of plant architecture.
Analysis of G-protein mediated signal transduction in shoot and flower development in maize
While heterotrimeric G protein signaling in plants is emerging as a major hub in integrating abiotic, biotic and developmental signals, a clear connection between a G protein subunit, its effector, and a target protein effecting a regulatory response remains elusive. We are currently investigating the unknown role of maize Type-C Gγ-subunits in a precise developmental and signaling context. We are performing RNA in situ hybridization experiments to analyze their spatial and temporal expression pattern in the context of meristem development. We also generated fluorescently tagged genomic reporters of various Type-C Gγ-subunits to analyze their sub-cellular localization. To further define their function, we are also using genetics to isolate loss and gain of function mutations using Crispr/Cas9 genome editing as well as TILLING. The subsequent, detailed phenotypic characterization will provide additional insights into the so far unknown role of Type-C Gg subunits in maize.
We are also analyzing the interaction between the heterotrimeric Ga subunit COMPACT PLANT2 (CT2) and the phospholipases ZmPLDa1 and ZmPLDa2, which we could demonstrate using different experimental approaches, such as FRET and BiFC. Here we are also using a combination of genetic and biochemical approaches to further elucidate the role of this interaction in the context of vegetative and reproductive meristem development.
---
Contact
Team Assistent
Developmental Biology
Institute of Plant Science and Microbiology
Ohnhorststr. 18, Room 1.155
22609 Hamburg
Fax: +49 40 42816-503