Dr. Katharina Weiss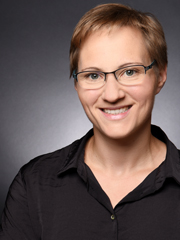 Postdoc/Drittmittel
Verhaltensbiologie
Address
Universität Hamburg
Faculty of Mathematics, Informatics and Natural Sciences
Biology
Institute of Zoology
Behavioral Biology
Martin-Luther-King-Platz 3
20146 Hamburg
Office
Institute of Zoology
Room: 620
Contact
Research interests
I am an evolutionary biologist, mainly working in the field of chemical ecology. My main interests lie in the evolution and maintenance of within- and between-species diversity and plasticity in sexually selected chemical signals in arthropods. Moreover, I want to integrate an organism`s ecology, its phylogenetic history, and environmental factors in investigating the evolution of these signals. Combining analytical methods like gas-chromatography/mass-spectrometry with behavioral assays, I currently investigate the condition dependence of chemical signals of females of the wasp spider Argiope bruennichi and the evolution of adaptive mating decisions of males based on these signals.
Publications
Weiss K, Ruch J., Zimmer S.M. & Schneider J.M. 2020. Does sexual cannibalism secure genetic benefits of polyandry in a size-dimorphic spider? Behavioral Ecology & Sociobiology, in press
Weiss K, Herzner G, Strohm E (2017). Sexual selection and the evolution of male pheromone glands in philanthine wasps (Hymenoptera, Crabronidae). BMC evolutionary biology 17(1), 128.
Weiss K, Strohm E, Kaltenpoth M, Herzner G (2015). Comparative morphology of the postpharyngeal gland in the Philanthinae (Hymenoptera, Crabronidae) and the evolution of an antimicrobial brood protection mechanism. BMC evolutionary biology 15(1), 291.
Weiss K, Parzefall C, Herzner G (2014). Multifaceted defense against antagonistic microbes in developing offspring of the parasitoid wasp Ampulex compressa (Hymenoptera, Ampulicidae). Plos one 9(6), e98784.
Herzner G, Kaltenpoth M, Poettinger T, Weiss K, Koedam D, Kroiss J, Strohm E (2013). Morphology, chemistry and function of the postpharyngeal gland in the South American digger wasps Trachypus boharti and Trachypus elongatus. Plos one 8(12), e82780.
Academic CV
since 2019
Postdoc (DFG), Behavioural Ecology, Universität Hamburg (Prof. Jutta Schneider)
2018-2019
Lecturer, Organismic Biologiy, University of Regensburg, Germany
2013-2017
PhD, Evolutionary Ecology, University of Regensburg (Prof. Erhard Strohm)
2011-2013
Master of Science, Biology, University of Regensburg