Molecular Systematics and Phylogenetics
The most important goal of systematics is to reconstruct the most likely path of evolution.  The problem is: nobody was there to follow and document the process, so that we can never be sure that a reconstruction is really accurate.  Therefore, we have to rely on other evidence.  Of course fossils are an important source of information, but in plants it is much more difficult to reconstruct an entire organism from a fragment than it is in animals – and plant fossils are usually very fragmentary.
Therefore, the characters of species living today yield the most important clues to reconstruct the phylogeny.  And this is where molecular systematics has some invaluable advantages:
the characters have discrete character states, viz., the four bases of the DNA, adenine, cytosine, guanine and thymine (A, C, G, T),

the characters are very numerous, limited only by the size of the genome, allowing a statistical evaluation,

in contrast to many morphological characters, DNA characters are not directly influenced by the current environmental conditions.
Photo: UHH/Rohwer
Thermocyclers in our PCR lab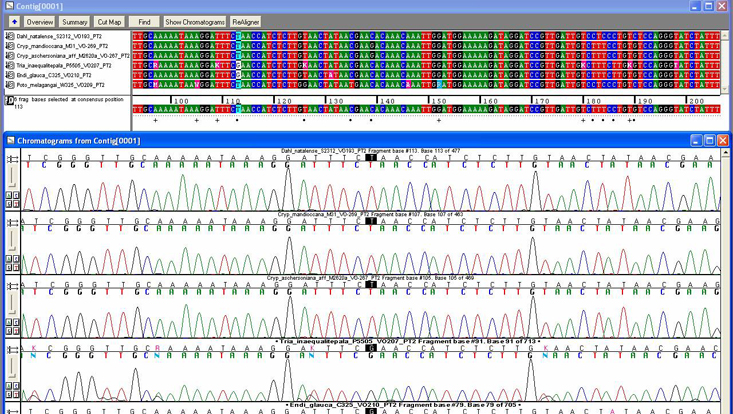 Photo: UHH/Rohwer
Screenshot of an alignment of DNA sequences with chromatograms
Photo: UHH/Rohwer
Part of a phylogenetic tree (phylogram)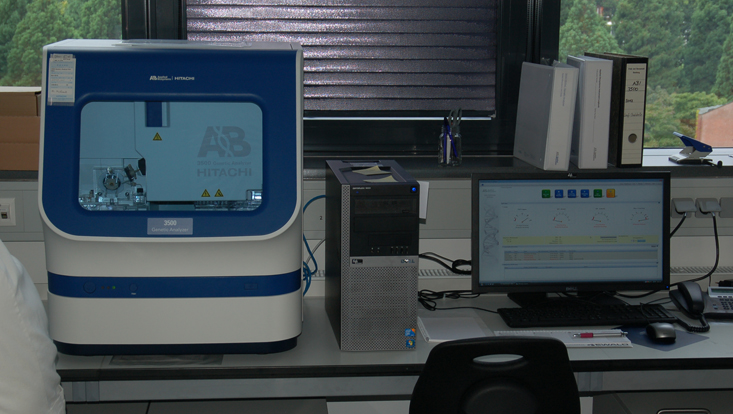 Photo: UHH/Rohwer
The ABI 3500 capillary sequencer in our sequencing lab
Therefore, we read in the genome of plants and try to calculate the path of evolution from the data obtained in this process.  This leads to evolutionary trees of previously unknown precision, with statistical support values for every branch.  However, an evolutionary tree without biological information about the species is just a branching pattern.  Therefore, we need data from traditional taxonomy incl. morphology and anatomy, from ecology and plant geography, to bring these patterns to life.