Dr. Sarah Holtfrerich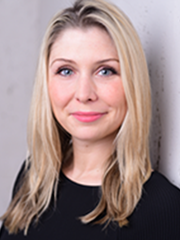 Postdoctoral Researcher
Neuroendocrinology
Address
Universität Hamburg
Faculty of Mathematics, Informatics and Natural Sciences
Department Biology
Institute of Cell and Systems Biology of Animals
Neuroendocrinology
Martin-Luther-King-Platz 3
20146 Hamburg
Office
Institute of Cell and Systems Biology of Animals
Room: 412
Contact
Fax: +49 40 42838 - 9718
Academic Career
since 2014

PhD student and research associate, Research Group Neuroendokrinology
2010 - 2013
M. Sc. Biology, University of Hamburg
Master thesis: Correlation between testosterone and baby schema –the influence of testosterone on attention and decision processes. Supervisor: Prof. jun. Dr. Esther Diekhof
2006 - 2009
B. Sc. Biology, University of Hamburg
Bachelor thesis: Emotional calls of group members in spectacled parrotlets (Forpus conspicillatus). Supervisor: Dr. Ralf Wanker
Research interests
Neuronal and endocrinological processes in the handling of key stimuli e.g. baby schema
Interaction between endogenous and exogenous hormone concentrations.

I am interested in neuronal connections between selective attention on baby schema stimuli and the habitual hormonal status. In particular, I am looking at the interactions between exogenous oxytocin and endogenous testosterone in humans, especially in brain regions with high frequency of oxytocin receptors.