Dr. Sarah Holtfrerich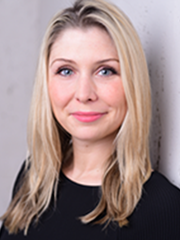 Postdoctoral Researcher
Neuroendocrinology
Address
Universität Hamburg
Faculty of Mathematics, Informatics and Natural Sciences
Department Biology
Institute of Zoology
Neuroendocrinology
Martin-Luther-King-Platz 3
20146 Hamburg
Office
Institute of Zoology
Room: 412
Contact
Fax: +49 40 42838 - 9718
Academic Career
since 2014

PhD student and research associate, Research Group Neuroendokrinology
2010 - 2013
M. Sc. Biology, University of Hamburg
Master thesis: Correlation between testosterone and baby schema –the influence of testosterone on attention and decision processes. Supervisor: Prof. jun. Dr. Esther Diekhof
2006 - 2009
B. Sc. Biology, University of Hamburg
Bachelor thesis: Emotional calls of group members in spectacled parrotlets (Forpus conspicillatus). Supervisor: Dr. Ralf Wanker
Research interests
Neuronal and endocrinological processes in the handling of key stimuli e.g. baby schema
Interaction between endogenous and exogenous hormone concentrations.

I am interested in neuronal connections between selective attention on baby schema stimuli and the habitual hormonal status. In particular, I am looking at the interactions between exogenous oxytocin and endogenous testosterone in humans, especially in brain regions with high frequency of oxytocin receptors.
Publications
Holtfrerich SKC, Knipper S, Purwins J, Castens J, Beyer B, Schlomm T, Diekhof EK (2020). The impact of long-term androgen deprivation therapy on cognitive function and socioeconomic decision making in prostate cancer patients. Psycho-Oncology, in press.
Diekhof EK, Korf S, Ott F, Schädlich C, Holtfrerich SKC (2020). Avoidance Learning Across the Menstrual Cycle: A Conceptual Replication. Frontiers in Endocrinology, 11: 231. Part of the Research Topic "Recent Progress and Perspectives in Neurosteroid Research"
Diekhof EK, Reimers L, Holtfrerich SKC (2019). Hormonal Modulation of Reinforcement Learning and Reward-Related Processes – A Role for 17ß-Estradiol, Progesterone and Testosterone, in: Schultheiss, O., Mehta, P. (Eds.), Routledge International Handbook of Social Neuroendocrinology. Routledge, London and New York, 420–441.
Holtfrerich SKC, Pfister R, El Gammal AT, Bellon E, Diekhof EK (2018). Endogenous testosterone and exogenous oxytocin influence the response to baby schema in the female brain. Scientific Reports. 8:7672, 1–10. https://doi.org/10.1038/s41598-018-26020-4

Jakob K, Ehrentreich H, Holtfrerich SKC, Reimers L, Diekhof EK (2018). DAT1-Genotype and Menstrual Cycle, but Not Hormonal Contraception, Modulate Reinforcement Learning: Preliminary Evidence. Frontiers in Endocrinology, 9: 60. Part of the Research Topic "Steroids and the Brain"
Holtfrerich SKC, Schwarz KA, Sprenger C, Reimers L, Diekhof EK (2016). Endogenous Testosterone and Exogenous Oxytocin Modulate Attention Processing of Infant Faces.

PLoS One.

2016 Nov 18;11(11):e0166617. doi: 10.1371/journal.pone.0166617. eCollection 2016.