Prof. Dr. Tobias Lenz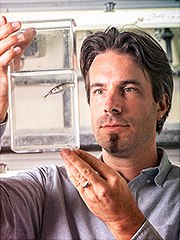 Photo: UHH/Lenz
Professor/in
Evolutionäre Immungenomik
Address
Universität Hamburg
Faculty of Mathematics, Informatics and Natural Sciences
Institute of Cell and Systems Biology of Animals
Evolutionary Immunogenomics
Martin-Luther-King-Platz 3
20146 Hamburg
Office
Institute of Cell and Systems Biology of Animals
Room: 460
Office hours
By appointment only
Contact
Key aspects of activity
Evolution of an optimal immune response
Dynamics of antigen prpesentation and recognition
Evolutionary genomics of the major histocompatibility complex (MHC)
Human population genetics and genomics
---
Secretary's office
Team-Assistentin
Institut für Zell- und Systembiologie der Tiere
Evolutionäre Immungenomik
Martin-Luther-King-Platz 3
20146 Hamburg
Room: 461
Curriculum vitae
| | |
| --- | --- |
| Seit 2021 | Heisenberg-Professor, Universität Hamburg |
| 2014 - 2021 | Forschungsgruppenleiter, Max-Planck-Institut für Evolutionsbiologie, Plön |
| 2011 - 2014 | Postdoc, Harvard Medical School/Brigham and Women's Hospital, Boston |
| 2009 - 2011 | Postdoc, Max-Planck-Institut für Evolutionsbiologie, Plön |
| 2005 - 2009 | Promotion, Max-Planck-Institut für Evolutionsbiologie, Plön |
| 2005 | Forschungsassistent, Universität Bern |
| 2005 | Forschungssemester, Harvard University, Cambridge |
| 1998 - 2005 | Biologiestudium, Universität Hamburg |
Selected publications
For full publication list please see link on the right or view Google Scholar profile
Radwan J, Babik W, Kaufman J, Lenz TL, Winternitz J (2020) Advances in the evolutionary understanding of MHC polymorphism. Trends in Genetics 36: 298-311.
Severe Covid-19 GWAS Group (2020) Genome-wide association study in severe Covid-19 with respiratory failure. New England Journal of Medicine 383:1522-1534.
Arora J, Pierini F, McLaren PJ, Carrington M, Fellay J, Lenz TL (2020) HLA heterozygote advantage against HIV-1 is driven by quantitative and qualitative differences in HLA allele-specific peptide presentation. Molecular Biology and Evolution 37: 639-650.
Chowell D, Krishna C, Pierini F, Makarov V, Rizvi NA, Kuo F, Riaz N, Lenz TL*, Chan TA* (2019) Evolutionary divergence of HLA class I genotype impacts efficacy of cancer immunotherapy. Nature Medicine 25: 1715-1720.
Arora J, McLaren PJ, Chaturvedi N, Carrington M, Fellay J, Lenz TL (2019) HIV peptidome-wide association study reveals patient-specific epitope repertoires associated with HIV control. PNAS 116: 944-949.
Pierini F, Lenz TL (2018) Divergent allele advantage at human MHC genes: signatures of past and ongoing selection. Molecular Biology and Evolution 35: 2145-2158.
Krause-Kyora B, Nutsua M, Böhme L, Pierini F, Pedersen DD, Kornell S-C, Drichel D, Bonazzi M, Möbus L, Tarp P, Susat J, Bosse E, Willburger B, Schmidt AH, Sauter J, Franke A, Wittig M, Calibe A, Nothnagel M, Schreiber S, Boldsen J*, Lenz TL*, Nebel A* (2018) Ancient DNA study reveals HLA susceptibility loci for leprosy in medieval Europeans. Nature Communications 9: 1569.
Lenz TL*, Deutsch AJ*, Han B, Hu XY, Okada Y, Eyre S, [28 coauthors], de Bakker PIW, Raychaudhuri S (2015) Widespread non-additive and interaction effects within the HLA modulate the risk of autoimmune diseases. Nature Genetics 47: 1085-1090.
Eizaguirre C*, Lenz TL*, Kalbe M, Milinski M (2012) Divergent selection on locally adapted MHC immune genes experimentally proven in the field. Ecology Letters 15: 723-731.
Lenz TL (2011) Computational prediction of MHC II-antigen binding supports divergent allele advantage and explains trans-species polymorphism. Evolution 65: 2380-2390.